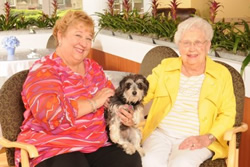 Summit Ridge: Alzheimer's Care
At Surrey Place, we understand that people with Alzheimer's disease and other forms of dementia have unique and specialized needs. That's why we have an entire wing designed to provide the best possible care - medical and otherwise - for our residents with these conditions.

Summit Ridge is a quiet setting with features and visual cues aimed at reducing any anxiety or confusion residents may feel. It's a secured environment that maintains residents' safety without compromising their dignity.

By creating a social atmosphere for these individuals and their family members, our memory unit is dedicated to providing a structured environment focusing on individuality and wellness.

Structure and safety are key in our memory unit. For example:

We serve meals in the unit at the same time each day.
We use visual cues, such as photos of residents when they were younger or of their family members, to help residents recognize their own rooms.
Items are labeled so that residents can correctly identify them.
Each room has a shadow box for the resident's keepsakes and pictures.
Registered nurses, licensed practical nurses and certified nursing assistants are on duty 24/7, and they are in daily contact with our residents' physicians' offices.
A psychiatrist from St. Luke's Hospital visits residents as needed.
Every day our activities therapist provides structured activities that allow residents to socialize, but we also emphasize individuality. We do our best to offer activities that match the abilities and interests of each resident. Residents' family members are welcome to participate in the activities too - including parties with themes or in honor of particular residents.

Family members can rest assured that we provide top-notch medical care. Our physicians monitor residents to ensure all their healthcare needs are being met. And when residents need extra care, they get it - immediately.

We know how hard it can be for family members to watch their loved ones progress through the stages of Alzheimer's or other dementias. We make it a priority to work closely with residents' family members when it comes to care planning. To us, family members are more than visitors; they are our partners. And that means they should be part of the decision-making process.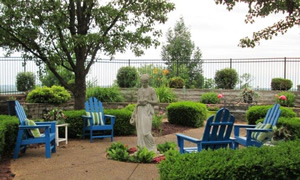 Summit Ridge features a self-contained courtyard featuring a garden where residents can plant vegetables and flowers. It has patio furniture and is enclosed, so our residents can enjoy it as part of this secured unit.

"We've been very happy with the care (he's) received. All of the workers are so concerned and so helpful all of the time."

- Harriet W., Wife of Summit Ridge Resident