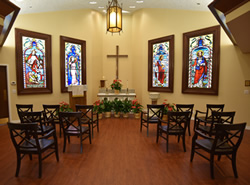 Pastoral Care: A Ministry of Presence
Religious Services


We know how important religion and spirituality are to many of our residents. That's why we offer pastoral care at all times.

Our chaplains represent diverse faith traditions, and they provide care to residents of all faiths. They are always available to offer support, answer questions or simply listen. They serve as chaplains at St. Luke's Hospital as well, so when a Surrey Place resident is transferred to St. Luke's, he or she has the comfort of a familiar face.

Our chaplains are knowledgeable about many religious resources in the community and can provide referrals upon request. Through any Surrey Place staff member, residents can request the services of a Roman Catholic priest, a Jewish rabbi or a Muslim imam, or they can make the request by calling the Pastoral Care Office at 314-542-4748. You may also submit your request by clicking here.

The beautiful chapel at Surrey Place, located off the main lobby, features historical stained-glass windows, a marble alter and baptismal font all restored from the old St. Luke's Hospital Chapel on Delmar. It has comfortable seats and plenty of space for wheelchairs. The chapel is always open for prayer or meditation, and religious services are held there most days. All residents - and their family members - are welcome to attend any service. In addition, priests, ministers, rabbis and imams from our residents' own congregations are welcome to visit and pray at Surrey Place.



Director of Pastoral Care:

The Rev. Renita Heinzl


Associate Director of Pastoral Care:

The Rev. Mari Chollet


Administrative Assistant:

Paula Parcher



Phone Number:

314-542-4748


Surrey Place Chapel - Schedule of Services

All services are held in the Chapel unless otherwise indicated.

Eucharist (Communion) Service
Friday
11 a.m.
Evening Prayer
Monday through Friday
3:40 p.m.
Evening Prayer


(Summit Ridge)

Monday through Friday
4 p.m.
Spiritual Conversations
Monday
10:30 a.m.
Jewish Sabbath Get Together


(Alpine Park Day Room)

Friday
10 a.m.
Roman Catholic Mass
Friday in 1st Full Week of Month
11 a.m.
Roman Catholic Communion Service
All Other Fridays
11 a.m.
Ecumenical Worship Service
Sunday
10 a.m.