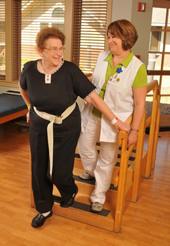 Alpine Park and Canyon Creek: Short-Term Rehabilitation Services
Some of our residents are only with us for a limited period of time during their short-term rehabilitation services following acute-care hospitalization. But no matter how long they're with us, they receive the same high-quality personal and medical care as the rest of our residents. We have recently increased the number of private rooms for our short-term rehabilitation patients and offer this courtesy as a complimentary arrangement, as long as space is available.

Surrey Place offers a progressive approach to rehabilitation that involves physical therapy, occupational therapy and speech therapy - six days a week, seven days a week for orthopedic patients. All of the therapists who work with our short-term rehab patients are Surrey Place employees and are licensed.

Most of our therapy sessions are one-on-one and our therapists work with patients in our spacious, sunny and well-equipped gym. But if a patient needs a quieter, more private area for therapy, these are available at Surrey Place, as well.

Our therapists provide patients with daily evaluations so they can easily track their progress. And our registered nurses work closely with a social worker, registered dietitian and music therapist to make sure we're meeting all the medical needs of short-term rehab patients.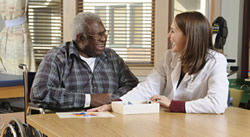 We also make it a priority to ensure a smooth transition between the hospital and Surrey Place. That's why we are sure to obtain all medical and background information we need before a new short-term rehab patient arrives. We admit patients seven days a week.

In addition, when short-term rehab patients are ready to move home, with a physician's order, we can help arrange for home health care services. That means patients can expect to continue to receive top-quality care even after they leave us.

"It's been a very good experience here. Everyone knows their job and how to do it correctly which has meant a lot to me and the other residents. The staff works well together which is in my opinion one of the most important things in the healing process."

- Wesley W., Alpine Park resident

"My four-week stay at Surrey Place surpassed my expectations. First and foremost, the therapy, particularly physical therapy, was excellent. The physical therapist assigned to me was outstanding. She was knowledgeable, professional, empathetic and sincerely interested in giving me the best possible treatment. I felt totally prepared to go home and begin the next step in my recovery. The nursing services provided were also very good. That staff was professional, caring and eager to see that I was comfortable.

The other support staff - nurse assistants, aides, cleaning room services and activity professionals were also very caring, cheerful and ready to be helpful. The food at Surrey Place was excellent.

In summary, my stay at Surrey Place was beneficial. Should I need rehab facilities in the future, I would definitely select Surrey Place and I would certainly recommend Surrey Place to others."

- Al P., Canyon Creek Resident