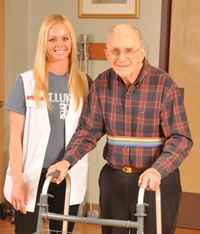 Therapy Services
Therapy Services at Surrey Place focuses on personalized care plans for each patient. The group strives to provide high quality rehabilitation following an illness and hospitalization with offerings in physical and occupational therapy, as well as speech therapy services.

Therapy Services feature:

Licensed therapists, who are onsite six days a week, deliver all therapy services.
All therapists at St. Luke's Surrey Place are employees of St. Luke's Hospital. This ensures patients are consistently treated by the same group of therapists, which facilitates a close relationship between the therapists and their patients, as well as the physicians and nurses involved their patients' care.
Therapists at Surrey Place have extensive experience in working with the geriatric population, averaging 16 years experience among 18 therapists.
The majority of therapy sessions are one-on-one sessions, therapist and patient, not group therapy sessions.
Daily therapy progress notes for each patient help enhance our continuity of care.
This provides a detailed account of the patient's progress toward their therapy goals.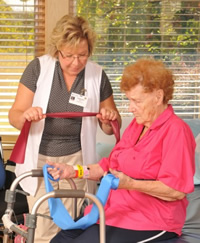 Therapy takes place in a spacious, sunny and well-equipped therapy gym that lends to a pleasant experience. Quiet, more private treatment spaces are utilized for patients needing an alternative setting for their therapy session.

"The care we provide our orthopedic patients doesn't end once the procedure is performed. The physical and occupational therapists at Surrey Place do an excellent job of using their skill and expertise to get our patients up and moving and enjoying a fulfilling and active life."

- Jerome Piontek, St. Luke's Hospital Orthopedic Surgeon

"PT Physical Therapy sessions were informative, professional and effective. Her overall approach was one of friendliness, kindness, consideration, and generousnessgenerosity; all leading to a Surrey Place experience that exceeded the highest expectation. My sister is now walking with confidence."

- Jeffery M., A letter from a brother of a Canyon Creek short term rehabilitation resident